How my experience doubled my suspicions about Progressive's Competitor Comparison feature.
I don't know about you, but whenever a company gives me competitor prices, I'm guarded. Think about it. If you go to a Target to buy some Frosted Flakes, they're priced at $2.99 a box. Right underneath the tag, you also see Walmart's price at $3.50 – doesn't it make you wonder? Maybe the comparison shopper snuck into Wally World a few months back, or maybe they never went at all. Regardless, I usually don't trust companies' comparison prices.
That's why I've been cynical about Progressive's claims. If I get a Progressive auto insurance quote for $600, then I get a GEICO price from Progressive for $500, why would I buy from Progressive? What motivation does Progressive have for showing a lower price? In addition, as a former Agent, I know Progressive is not privy to GEICOs or anybody else's proprietary underwriting guidelines. They could backward-engineer it to an extent, but it won't be completely accurate.
Still, it doesn't stop Progressive from advertising about it.
Progressive Price Comparison Commercial
My Experience With Progressive's Competitive Comparison
In my investigative journalism-mode, I hopped over to Progressive's site (writing April 2009). Once again, I was impressed with their interface. Of all the online auto quote systems I've used, Progressive's website has been the most impressive. It's quick and easy to navigate. I got another auto insurance quote within minutes of filling out the form.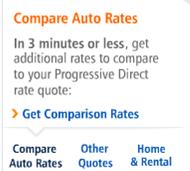 But I didn't care about a quote this time. I wanted to know about competitor quotes. After all, I had just finished shopping my rates a few months back. I knew the ballpark estimates from other companies. Would Progressive's supposed comparison price even be close to State Farm's, Allstate's, or GEICO's? I was still doubtful.
After getting my quote, I noticed a small box off to the right side of the page: "Compare Auto Rates". I clicked on it, and followed the directions for competitor rate quotes. Lo and behold, this is what Progressive wrote…
Progressive's Apology
We apologize, but we cannot provide comparison rates for your situation.
Our goal is to provide accurate comparison rates, which are based on rates other companies publicly file in your state. We are unsure what certain companies may charge you for the following situation(s):
* One of your vehicles is not listed in a company's rate filing.
* We cannot provide a rate for your most recent insurance company since your renewal rate is often different than the rate offered to new customers.
* Comparison rates for which you may qualify are currently being updated in our system.
Please contact other companies directly to find the rates that apply to you.
This single negative experience did nothing to bolster my confidence in Progressive's competitor comparison feature. Maybe it works 99% of the time. However, it happened to be broken the one time a consumer car insurance website came calling. Sure, one negative experience shouldn't taint an entire company, but it usually does. Maybe I should follow Progressive's advice and contact another company for a quote.
If you have any experience with Progressive's quote comparisons, feel free to leave a comment.