Did I really save 15% on my car insurance by switching to GEICO? – My GEICO Review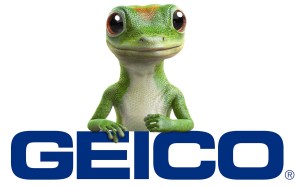 For anyone shopping for car insurance, who hasn't seen the GEICO lizard?
Probably about as many people who haven't been to a grocery store. The talking Cockney gecko is about as well known as peanut butter and jelly. And to think, before 1999 – he didn't even exist. Such is the power of modern advertising.
Stripping away the creative façade of cavemen, celebrity spokespeople and promises of 15% savings, is GEICO all it's cracked up to be? Read on to find out.
About the Company – GEICO Review
GEICO, or Government Employees Insurance Company, is a popular car insurance company in the United States. Bought by Warren Buffett's holding company in 1996, GEICO is now owned by Berkshire Hathaway. According to their website, GEICO boasts 8,000,000 policyholders as of 2007 – no small accomplishment for this business.
GEICO does not have an agency force in the community like other companies. Aside from the occasional offices in metropolitan areas, the majority of quotes, policy service, and claims work is handled over the phone via call centers.
As for financial strength, GEICO is strong. According to independent agency AM Best, GEICO rates a superior 'A++', their highest rating. Other services give GEICO a similar rating. According to those in the know, GEICO will be around for awhile.
Getting a GEICO Quote
Knowing their reputation, I wanted to get a quote from GEICO. To save time, I usually recommend what I did. First off, grab an online quote. Second, if it makes sense, call them on the phone with the online quote. Here's how I did it.
To start, I grabbed my current auto insurance policy. Second, I jumped online, to fill out their questionnaire. I input my personal info, then matched my coverages to my current policy. GEICO shot back my quote 10 seconds after I clicked 'Submit' – very fast. Since GEICO's price was much better than I'm paying now, I called them up.
GEICO Positives: Availability & Price
After being transferred to the right person, I started talking to Holly S. in Virginia Beach, Virginia. She told me she was in one of several call centers across the country. I called at night and, out of curiosity, asked her if someone would have picked up the phone at 3 am. According to Holly, she assured me GEICO would have answered the line.
Availability strikes me as a great positive for a car insurance company. If GEICO is willing to pick up the phone to give me a quote at 3 in the morning, then they're probably willing to pick up the phone to fill out my claim at 3 in the morning.
GEICO quoted me a great rate online. Fortunately, there was no bait-and-switch when I called Holly in Virginia Beach. What they quoted online, they honored on the phone. That's a huge benefit, especially as it relates to the integrity of their sales force.
One caveat to their pricing: GEICO seems to give a 'best guess' rate without asking for your social security number online. After you talk to them, they confirm the price. If your credit matches what you said online, then you get the rate. If not, the price probably goes up.
GEICO Negative: Pushy?
I had one problem with confirming my phone quote. Holly was a little pushy. She did not ask me about my personal insurance situation and went right for the close. This was a little unnerving to me as a former insurance agent. I would have liked her to walk me through the coverages, instead of just trying to take my order. Holly was definitely assertive, but she was polite.
What about GEICO's Service?
I looked at complaint ratios at a few major departments of insurance. Consumer complaints are either average, or below average compared to other auto insurance companies. No company is perfect, but GEICO seemed to meet a basic level of service for their customers. On a claims basis, I felt comfortable carrying my car insurance with GEICO.
I ended up getting GEICO after shopping around for awhile. I've had them for over a year now (Sept 2009). I've called them a few times and they've been very responsive. I even dropped by their office in my town to re-add comprehensive to my truck. They were helpful and friendly. I didn't like how they made me come by their office for that basic service. Seems like they could have sent out an agent to do an inspection. Oh well.
I can say this. They were extremely responsive when I got a new insurance card.
Did I save 15% on my Car Insurance by switching to GEICO?
Their reputation, availability, and price, all contribute to a good feeling of going with the gecko. As for saving 15% on my car insurance. When I signed up with GEICO, I saved +20% on my car insurance premiums compared to State Farm.
Way to go GEICO!
Quote Process: 10
(Scale 1-10: 10=the best)
Price: 9
(Scale 1-10: 10=Cheapest)
Customer Service: 9
(Scale 1-10: 10=the best)
Claims: *
(Scale 1-10: 10=the best)
Overall Rating: 9
(Scale 1-10: 10=the best)
Anything to add? Leave a comment about your experience with GEICO or write your own review.
Tags: popular, popularreviews
Trackback from your site.