Insurance by State: Rates & Info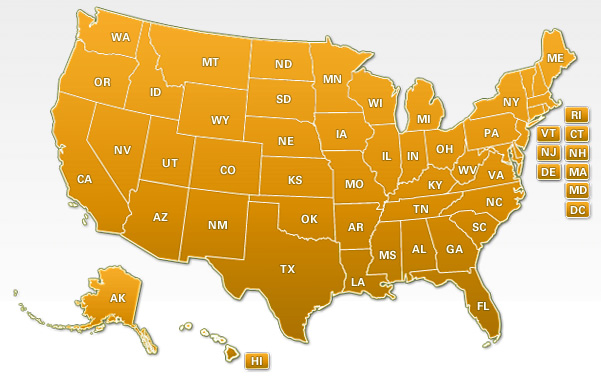 Data courtesy of Insure.com
Need to know anything about insurance in your state?
Insurance by state details are listed below with a full article on each state in the union. Articles are provided as a resource for shopping and details are updated frequently. If you have a question we didn't answer, don't forget to ask a question for a custom response.
—–
Alabama– The "Yellowhammer State" is as scary as its nickname sounds when it comes to enforcing mandatory insurance laws. You just may end up having to pay for insurance coverage for a vehicle you can't drive.
Alaska – Car insurance in Alaska is only required in the parts of the state where they require you to register your vehicle. Because of how quickly these areas change, always error on the side of caution and assume you need insurance.
Arizona – Keeping track of the insurance coverage of their drivers is something Arizona is on top of. They even make their drivers file for a special certificate and keep proof, if they claim to not be driving their vehicle.
Arkansas – Drivers in the "Natural State" have the option of opting out of some required coverages as long as it is done in writing. Does this make the coverages actually required then?
California – Insurance coverage in the "Golden State" isn't worth its weight in gold with how low the required property damage liability coverage is. Don't think you can get away without having it though, because the state keeps track of insurance electronically.
Colorado – Liability insurance isn't the only coverage that is required in Colorado; they also mandate that you carry coverage on yourself in case you are injured in an accident.
Connecticut – If you chose to go with no insurance coverage in the "Constitution State" you will end up on the DMV's pen pal list. Only this pen pal will suspend your driver's license if you decide to not write them back.
Delaware – FR-19 forms, bodily injury liability coverage, property damage liability coverage and surrendering license plates are all a part of driving in Delaware. Decide to skip out on any of it and you are looking at fines of $1500 and higher.
Florida – Even if you don't live in Florida, they require both residents and nonresidents to carry the same car insurance to be able to drive.
Georgia – Even though the state doesn't use proof of insurance cards to verify insurance, don't get caught without one. If you do, things won't be so peachy for you in the "Peach State".
Hawaii – The insurance requirements in Hawaii are so complicated that one may just decide to walk instead of drive. If you try to bypass the state's insurance requirement, you will be walking after the penalties you acquire.
Idaho – Even if you don't live in Idaho, if you are caught without car insurance you will still face penalties. Thanks to an interstate compact program your home state will penalize you for driving without insurance in Idaho.
Illinois – The insurance requirements in the "Prairie State" change depending on what insurance coverage you initially select. If you can't find insurance anywhere, the Illinois Insurance Plan may be able to help.
Indiana – Indiana drivers get to work with forms that have to be filed with the state by your insurance company, but you get penalized for if they don't; and forms that allow you to get out of required coverage by signing on the dotted line.
Iowa – Good drivers with no accidents aren't required to carry car insurance in the state of Iowa. It's only after you have had an accident that you better be able to provide proof of how you are going to pay for any damages you are responsible for.
Kansas – Just like all of the small, little seeds that make up sunflower; the "Sunflower State" requires a lot of little coverages to make up your insurance requirements as a whole.
Kentucky – Kentucky gets more upset if you try to provide fake proof of car insurance than if you don't actually have the coverage. Sometimes it just is really better to tell the truth.
Louisiana – The "Pelican State" bases how much insurance coverage you are required to have by how much your vehicle weighs. No, this weight requirement doesn't take into account the weight of the passengers.
Maine – Maine requires some of the highest liability coverages in the nation, in addition to coverages for you as well.
Maryland – The "Old Line State" really is straddling the line when it comes to technology. They electronically track when your insurance stops, but require a FR-19 form to verify that you have insurance.
Massachusetts – With the state no longer regulating insurance rates in Massachusetts, the insurance companies are free to charge whatever they want. To protect yourself and your wallet from this deregulation, drivers here need to get multiple insurance quotes before settling with a company.
Michigan – The "Great Lakes State" requires more insurance coverage for you than the other drivers you may hit. This is because Michigan is one of the few "no-fault" states.
Minnesota – Minnesota is another of the northern states that is a "no-fault" state and has more required coverages for you than the other driver. Here there are so many different required medical coverages that medical bills from a car accident should have no problem being paid.
Mississippi – Immediate suspension of your driver's license and a $1000 fine shows that the "Magnolia State" isn't fooling around if you don't have insurance coverage.
Missouri – Basic liability coverage, plus um/uim coverage is required in Missouri. Keep getting caught without it and your license will keep getting suspended longer and the fees will get higher.
Montana – The "Big Sky" state doesn't have big expectations when it comes to required insurance coverage. In fact, one of the standard, required liability coverages seem very small for this big state.
Nebraska – Vehicle owners (not the drivers) are responsible to have insurance coverage in Nebraska. Without it the owner can face license suspensions and fines, even if they weren't the ones driving at the time the ticket was issued.
Nevada – Just like the casinos in Las Vegas, Nevada has no forgiveness if you don't play by the rules. They have no grace period or warnings if you let your Nevada car insurance lapse, a single day of no insurance will bring fines.
New Hampshire – The "Granite State' doesn't require that you carry insurance coverage as long as you have another form of financial responsibility in place. If you do decide to go with the insurance coverage, they require almost everything but the kitchen sink.
New Jersey – Unless you purchase the required car insurance, you have no legal right to sue a driver that may have caused an accident in New Jersey.
New Mexico – The New Mexico Insurance Identification Database is used by the courts, the DMV and police officers to track your required insurance coverage. In other words, they already know before they ask you for proof of insurance coverage.
New York – High insurance coverage requirements are what you will find in the "Empire State". The good news is you don't have to purchase additional coverage when you rent a car.
North Carolina – Providing proof of insurance coverage is required for almost everything you take care of through the DMV. If you are no longer driving, don't forget to turn in your plates before you cancel your insurance to save yourself a lot of trouble.
North Dakota – You and any damage you cause to another person or their property will be covered when you carry the required North Dakota car insurance coverage. The only thing left out will be your own car.
Ohio – Even the "Buckeye State" admits that its required liability limits are too low to be effective and recommends that you purchase higher insurance. When a state comes right out and admits that, you may want to pay attention.
Oklahoma – The "Sooner State" believes that everyone should pay their part of an accident with being a comparative negligence state. So, if you are found to have contributed a little of the negligence that led to an accident, you will have to pay a little of the claim.
Oregon– Oregon requires so much coverage that the only thing missing is the comprehensive and collision coverage. Don't think that you can get away with only having the liability insurance either; if you don't have everything they require, you might as well have no coverage at all .
Pennsylvania – There is no first time "teaching you a lesson" in Pennsylvania, it goes straight to a 3 month suspension of both your registration and your license. Plus you could see a fine of at least $300 if you are caught driving without insurance.
Rhode Island – If you can only afford to purchase the minimum, required liability coverage, the "Ocean State" won't make you purchase any of the other insurance coverage they require.
South Carolina – Proof of insurance is required to get a new vehicle registration as well as a new driver's license. This is required at renewal time as well or you won't be able to renew either item.
South Dakota – The "Mount Rushmore State" will charge you with a misdemeanor if you are caught without the required insurance coverage or one of the approved alternatives.
Tennessee – Average amounts of liability coverage are required in Tennessee to be able to drive. It's the 5 years of SR-22 insurance you will be required to carry if you are caught without the liability coverage that's not average.
Texas – The insurance requirements in Texas fits the saying that "Everything's bigger in Texas". Bigger liability limits, bigger insurance tracking system, and bigger penalties for being uninsured.
Utah – The "Beehive State" tracks compliance of their interesting insurance limits through Insure-Rite. If your name isn't found in this database it will be added to the criminal record database with a misdemeanor.
Vermont – The "Green Mountain" state requires decent bodily injury liability coverage, but lacks when it comes to the property damage liability coverage.
Virginia – In Virginia, you have the option of purchasing insurance and being protected, or paying a fee to legally drive without coverage.
Washington – Unless you have a vehicle that is specifically listed on a special list, you have to carry car insurance. Some vehicles on this list really still need insurance, like motorcycles, but the state leaves that choice up to you.
Washington DC – Our nation's capital requires residents both liability and uninsured motorist coverage. If you don't carry insurance, you risk a suspended vehicle registration – and worse.
West Virginia – Random insurance checks via mail and police officers coming to your home to take your license plates are all part of the "Mountain State's" insurance program.
Wisconsin – If you don't keep up with the news, you may want to double check to see if you are carrying more insurance than what is now required here. Recent changes in the law have lowered the required amounts of Wisconsin car insurance.
Wyoming – Instead of allowing you the temptation to drive with a suspended license after you were caught with no insurance, the "Cowboy State" just puts you in jail.
| | |
| --- | --- |
| Overall Rating | No Ratings |
| Price | No Ratings |
| Service | No Ratings |
| Claims | No Ratings |